Duster
March 1, 2015

Ringo might've been the first dog I had for more than a year, but the first dog I had was a puppy named Duster.

I was around 4-5 years old. She was a yellow retriever mix that we had for not even a month.

Being a puppy, she was a spunky little girl that liked to chew on everything (including my toys). That's about all I can remember of our short time with her.

The day she went missing… I dawdled a lot as a child, and one day she got out. We were late going to the babysitter's home and still had to stop at a grocery store first. Mom didn't have time to put Duster back in the house, so she tagged along. She couldn't go in the store with us and was gone when we came out. I don't remember looking for her (I was too young).

I have a feeling that I cried. And it was sometime after that when I started begging for another dog.

Sometimes I still wonder about her fate. Was she hit by a car or found and taken somewhere? Did she live a long, happy life? Or was her time short?

Here is the only picture we had of her.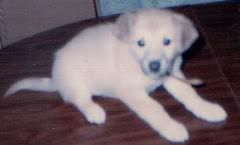 "Like dust in the wind..."