Oh No. The Swallows Are Here.
November 20, 2021

And those small but tough little fork~tailed flitwings have it in for me and my princess Dekks. They hate her for leaping high into the air in a playful way to capture and kill them. Never works...swallows move far quicker than Dekkie princess. If they gang up on her they don't care that I run out and rescue my cat because now they have another target for their angry swooping and cries.
Swallows hate me because I happen to keep and care for Dekks. I'm an equal threat to swallows because of my life connection to cats. Swallows frighten me because they swoop on princess and they swoop on me in a double effort to intimidate us. Magpies or swallows, a decent sized field space and us to cross it...escalating mayhem.
So busy doing something I am deeply in love with but have done very little of up til' now. I'm loving it. It's very therapeutic where I need it most but didn't know. It's tiring. It's exercise. Really stuffed. Pushing myself hard for four days. Wow. The exercise is amazing.
I've slowed down too much...tough yet incredibly worthwhile getting started again.
I've got my own Netflix account now and I am no longer speaking to my family. I'm over them and I mean OVER THEM. I'm not taking any shit from my family again. This is taking care of myself.
A gorgeous thankyou gift from a neighbour for the sewing. From her gorgeous garden. Wasn't expecting it. Haven't finished yet. Just about. Three quarters done. Her first sunflower. I love sunflowers.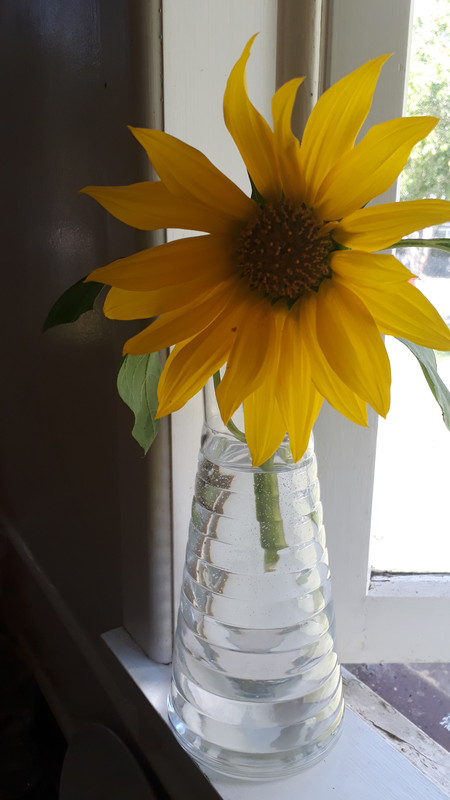 Have started on finishing two more areas ~ mending pile, Summer coat remodeling (long blue), some much needed housecleaning.

I still have two more items to sew.
Learning a lot more things. Giving myself permission to grow where nobody can get to but me and my Higher Power.